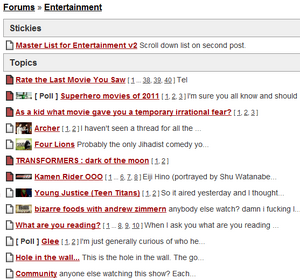 A section of the Fakku Forum in which users can post about anything entertainment related. As there have already been sections created for anime, manga and videogames this one usually contains topics about movies, television shows and other forms of entertainment not already coved in the forum. Threads about a particular movie generally include a trailer of said film.

An example of a post in this section:

"Terminator 4 (Salvation) just aired in theaters and was it that great? I think it should have just ended with the third installment (Rise of The Machines.) It felt like they where just trying to get the newer generation but, you know, what ever. Share your feelings... I don't mean like that. PERVERT!... Ok I'm done."
Ad blocker interference detected!
Wikia is a free-to-use site that makes money from advertising. We have a modified experience for viewers using ad blockers

Wikia is not accessible if you've made further modifications. Remove the custom ad blocker rule(s) and the page will load as expected.